The Yeah Jam Fury: U, Me, Everybody! Demo is a demo of the game Yeah Jam Fury: U, Me, Everybody! released on February 16, 2018, two months after the full game's release. Unlike the full game, which was released to Steam for the price of $11.99, the demo was released for free on Newgrounds, Kongregate, and its own official website. It was released in order to allow players to try various parts of the game for free before considering a full purchase.
Characteristics of the demo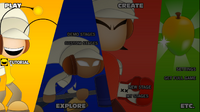 Being released after the main game itself, the demo contains most of the same elements of the main game. The playable characters, physics, music, and menu designs are all identical, and the demo also features the Stage Builder available in the full game. However, certain features are missing, including the Shuffle mode, the Memory Book, the ability to play custom stages made by other players, and all features related to Steam, such as achievements and trading cards. The ability to view other players' rankings on each level is also absent, though players are still able to do this on the demo's website. In the place of the Memory Book's option on the main menu is a link to the full game's store page on Steam.
List of levels
The demo features ten A-Side levels from the full game, not counting the Tutorial and Credits levels. All levels are played in succession, coming one after another, once the last level is cleared.
Trivia
To date, the Yeah Jam Fury: U, Me, Everybody! Demo is the only demo of a McLeodGaming game to act as a tryout of the main game rather than an early build.
This demo was released on the same day that Ms. Carrot's Stage Builder Rage Builder Contest began, with part of its purpose being to allow players who did not own the full game to participate in the contest. For the duration of the contest, all unlockable features of the Stage Builder were temporarily enabled for players of both the demo and the full game.
External links