The Warrior (戦士), also known as the Fighter, is a job class in the FINAL FANTASY series and one of its core basic jobs.
Character description
The Warrior is one of the strongest members of the Warriors of Light in the FINAL FANTASY games and is often the first choice when picking a team. It focuses on having high strength, stamina, and HP, giving it strong physical damage and survivability. It fights with swords, daggers, and axes, and it can also equip shields and armor. It often has access to the best weapons and armor, but in many games it is unable to use magic.
The Warrior's outfit often consists of heavy red armor, which increases when upgrading to a Knight. In the original release of FINAL FANTASY, the Warrior is depicted with red hair, partially due to hardware limitations. However, the color was changed to a dusty blond in the WonderSwan Color version of the game and has remained this way in all subsequent releases.
In the FINAL FANTASY: Memory of Heroes official novelization, the Warrior's name is given as Setro (ゼスト). The leader of the Warriors of Light, he has a shard of the Fire Crystal. He is righteous, courageous, and honest, but he has no memories of his past.
In Super Smash Flash 2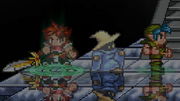 In Super Smash Flash 2, the Warrior appears in Black Mage's Final Smash, Warriors of Light. Like with Black Mage, the Warrior's design is based in its appearance in the original FINAL FANTASY, as well as its redesign in FINAL FANTASY I & II: Dawn of Souls and the Warrior of Light's second alternate outfit from DISSIDIA FINAL FANTASY, and he wields the Excalibur as his sword. He appears behind Black Mage upon performing the move and then dashes forward as the Thief leaps forward. Upon making contact with an opponent, he strikes them with the Excalibur, dealing 16% damage. After the Warrior or Thief captures an opponent, or if they are unable to do so, the Warrior jumps back and disappears.
Trivia
The Warrior also appears in SSF2 on the character selection of Black Mage's on-screen appearance.
In FINAL FANTASY, the Excalibur cannot actually be wielded by the Warrior class. Instead, it is wielded by the Knight, which the Warrior upgrades to.