Warp Star (ワープスター) is a glowing, yellow, star-shaped vehicle based off of a shooting star. It serves as Kirby's primary mode of transportation in the series, allowing him to travel quickly between areas.
Warp Stars fly their riders quickly through the sky, and can be steered by thought alone. Kirby is a very accomplished flyer of Warp Stars, however, he is not very good at landing them and has a tendency to violently crash land, sending him flying and destroying his Warp Star in the process.
In most games, grabbing a Warp Star automatically takes Kirby to the next section of a level; though sometimes they are optional and take Kirby to secret areas, or simply provide a faster (and safer) way to travel between areas.
Description
The Warp Star has a very large role in the Kirby series, similarly to Warp Pipes. Warp Stars can be found floating in many of the levels. Once Kirby touches one, he will automatically fly it to another area. While riding a Warp Star is sometimes optional, it is usually advisable to catch a ride on one. In various games, Kirby is able to summon it with a cell phone. It is stated in the anime and implied in Kirby & The Amazing Mirror that a Warp Star is the trademark of a hero. In Kirby Air Ride, a number of similar vehicles dubbed "Air Ride Machines" appear, alongside the Warp Pipe itself. Initially, the Warp Star is the only Air Ride Machine available to Kirby. It has the most balanced stats out of the available machines in the game and has no quirks, making it user-friendly and a viable choice for the beginning and average player.
In the Super Smash Flash series
In Super Smash Flash
In Super Smash Flash, the Warp Star made an appearance for Kirby's standard attack, where he left the battlefield on it to switch to Meta Knight.
In Super Smash Flash 2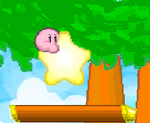 In Super Smash Flash 2, the Warp Star makes an appearance for Kirby's on-screen appearance; Kirby appears riding on it, and then crash-lands on-stage.
Community content is available under
CC-BY-SA
unless otherwise noted.