The Warp Pipe (ワープ土管) is a commonly used element in the Mario series. Appearing frequently in many games of the series, as well as the Yoshi series and Wario series, they are used to contain various enemies and transport the player to different parts of the level. Being a staple of the Mario series, they appear frequently in several works of McLeodGaming, including A Super Mario World and the Super Smash Flash series.
In A Super Mario World
Warp Pipes appear in the Flash animated series, A Super Mario World, where their sprites are ripped from Super Mario World and they are used to transport characters. In the first episode, Link uses a blue Warp Pipe to travel to the Mushroom Kingdom. Additionally, a yellow Warp Pipe and a gray Warp Pipe appear on the main menu of the second episode underneath the "Start" and "Scene Selection" options respectively. Pressing "Start" will have Mario enter the yellow Warp Pipe, and pressing "Scene Selection" will have Link enter the gray Warp Pipe.
In Super Smash Flash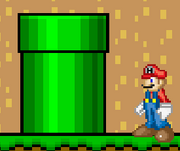 Warp Pipes appear as platforms on multiple stages in Super Smash Flash. A green Warp Pipe appears as a platform on Peach's Castle, and six Warp Pipes appear throughout Super Mario World, including two yellow pipes, two blue pipes, a gray pipe and a green pipe. However, these Warp Pipes appear only as basic platforms and do not perform any additional functions.
In Super Smash Flash 2
In Super Smash Flash 2, Mario's, Luigi's, Wario's, and Waluigi's on-screen appearances include having a Warp Pipe rise from the ground for them to jump out of onto the stage. Mario jumps from a green pipe, Luigi jumps from a red pipe, Wario jumps from a purple pipe, and Waluigi jumps from a yellow pipe.
As a stage element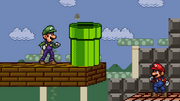 Warp Pipes mainly appear as platforms on Mushroom Kingdom, with a green one on the platform of bricks and a shorter green one on the rightmost platform. Much like in the Mario series, Piranha Plants often emerge from these pipe as a stage hazard. A third green Warp Pipe can be seen on the side of the bottom-left platform. Green Warp Pipes also appear in the backgrounds of Mushroom Kingdom III and Yoshi's Island, as well as in the foreground of Good Egg Galaxy on Galaxy Tours. An orange Warp Pipe appears in the background of the aforementioned stage.
As a level element
This section contains information of a formerly

confirmed

feature.

---

The original source that confirmed the subject has otherwise become obsolete, outdated or deprecated and has yet to be reconfirmed by an official modern source.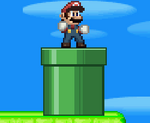 Warp Pipes were originally planned to appear as a level element in the Adventure mode of SSF2. It was initially revealed in the fifth Smash Flash DOJO!!! prior to its sixth renovation, but along with Adventure, its current fate is a mystery. All that has been revealed is that they would have appeared in the Mushroom Kingdom level and that they could supposedly be entered by the character to transport between different areas of the level.