Warlock Punch


Ganondorf using Warlock Punch.
Universe
The Legend of Zelda
User(s)
Effect
Ganondorf performs a slow but powerful dark magic-infused punch.
Warlock Punch (魔人拳) is Ganondorf's neutral special move in Super Smash Flash 2.
Overview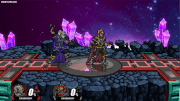 Warlock Punch works very similarly to Captain Falcon's Falcon Punch: Ganondorf steps back, charging his fist with dark energy, before attacking with a powerful, dark magic-infused backfist. It is one of the most powerful attacks in the game, dealing 32% damage and powerful knockback, having strong KO potential even for opponents with low damage. Ganondorf can also perform a Reverse Warlock Punch by inputting the opposite direction just before bringing his fist back, which deals 37% damage and increased knockback at a lower angle. Both versions of the move become more powerful when used in midair, dealing 38% damage normally and 40% damage reversed. Ganondorf also gains super armor for the most of the move's startup, ending just before punching.
Gallery
Screenshots
Trivia