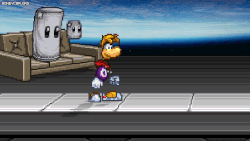 Walking is a form of ground movement in Super Smash Flash 2 that is slower than dashing and running. It is done by tapping the left or right control button and, if set to Auto-Dash, holding a walking input. This form of movement allows for the forward tilt, up tilt, and smash attacks.
Walking does not exist in Super Smash Flash, as the characters are always running.
Walking values
Note
↑

Sandbag's walking speed affects only its hops forward and not the stops it makes in intervals.