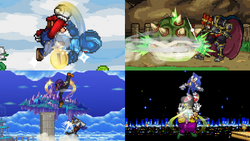 The up special move, commonly referred to as up-B, is a special move in Super Smash Flash 2 that a character may perform that involves by pressing the designated button while holding the up key. It is usually used for recovery purposes as it usually launches the character upwards, but there are few exceptions to this, such as Jigglypuff's move Sing. Super Smash Flash has an equivalent attack, referred to as the up attack, which is infamously known for its finishing properties when attacking incoming airborne opponents, launching them to the sides of the stage.
List of up special moves
Transformations' up special moves
Community content is available under
CC-BY-SA
unless otherwise noted.