Tiamat (ティアマット) is a recurring enemy and summoned monster in the FINAL FANTASY series. Always a dragon, Tiamat is usually one of the later bosses, or at least one of the harder enemies the party encounters. Despite her several reappearances, Tiamat's most prominent appearance is in her debut as one of the Four Fiends in the original FINAL FANTASY.
In Super Smash Flash 2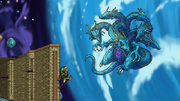 In Super Smash Flash 2, Tiamat briefly appears as a background character on Chaos Shrine.