Tankman

Tankman as featured in the Newgrounds logo from 2006.
First appearance
Newgrounds logo (2000)
MG appearance(s)
Fraymakers
Species
Human
Gender
Male
Alignment
Good
Created by
Andrew J. Brozyna
Company
Newgrounds
Tankman is the soldier who controls the tank featured in the Newgrounds tank logo. He appears as an Assist character in Fraymakers.
Character description
The Newgrounds tank logo was created in 2000 and would remain the main logo for the website until 2018. It features Tankman riding his tank with a distant city and orange sky in the background. He initially wore a helmet, goggles, and a mostly black shirt, but with the logo's redesign in 2006, the goggles were replaced with a helmet visor and the front of the shirt became white. Following his debut, Tankman has become a mascot for the website, with many games and animations featuring the logo when loading and often parodying it by inserting their own characters in the place of Tankman.
A redesigned version of Tankman is also the main protagonist of the animated series TANKMEN by Jeff Bandelin. Here, he is also referred to as Sergeant John Captain and is portrayed as a kind and courageous soldier obsessed with crude humor and movies from the twentieth century. This version of Tankman has become a Newgrounds mascot as well and also appears more prominently in numerous other works, such as Newgrounds Rumble, Move or Die, and Friday Night Funkin'.
In Fraymakers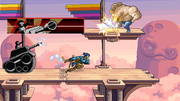 Tankman is one of the Assist characters in Fraymakers, and he will be among the twenty Assists available at the launch of its Early Access release. He appears inside his tank with his design from the 2006 redesign of the Newgrounds logo. When called upon, he aims his tank gun at an upward angle and fires a powerful shot, hitting opponents in the way.
Trivia
Tankman is currently the only character in Fraymakers to not originate from a game, instead originating as a logo mascot.
Having first appeared in 2000, Tankman is currently the oldest character to appear in Fraymakers.
Tankman makes a minor cameo in the Newgrounds release of Super Smash Flash, where the Newgrounds logo appears on the title screen, and in Yeah Jam Fury, where it appears on the preloading screen and the level selection screen.
In Yeah Jam Fury: U, Me, Everybody!, the Everything, By Everyone sticker and achievement features a modified version of the Newgrounds logo with Ms. Carrot in the place of Tankman. The name is a reference to the slogan of Newgrounds often accompanied by the logo.