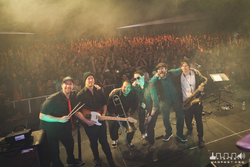 Super Soul Bros. is a jazz band based in San Jose, California. Formed in 2012 by Robbie Benson, the band is known for arranging live video game music covers, which are generally released as albums or performed at events such as MAGFest, PAX West, and Super Smash Con. They are responsible for writing and performing the main soundtrack for Fraymakers.
Members
Currently, Super Soul Bros. consists of six members, each of which is attuned to a different instrument. These members are listed below.
Robbie Benson, also known by the alias Gwobs, is the band's leader and keyboardist.
Brian Sheu is the band's co-leader and guitarist.
Alex Popoff is the band's saxophonist.
Chris Haman is the band's drummer and percussionist.
Christian Manzana is the band's trombonist.
Bill Smolik is the band's trumpeter.
Work with Fraymakers
Super Soul Bros. is the producer for the first of the three soundtracks in Fraymakers, which consists of live jazz music. Notably, the main theme of Fraymakers is an original track composed by Robbie Benson. According to Gregory McLeod, he first learned of and met with the group at Super Smash Con, which led to him initially considering the band for working with Team Fray during the game's early development.[1]
In addition to all six band members performing each song, alto saxophonist Howi Dietz also performs in songs such as BIT.TRIP Medley. Additionally, each song is mixed and mastered by Tony Dickinson.
Trivia
Fraymakers is the first game that Super Soul Bros. has produced an original soundtrack for.
Reference
External links