This article requires to be rewritten or expanded.

---

The information is not outdated nor incomplete, although it can be rewritten for a more formal explanation and better clarity. It may require an expansion going further on missing details.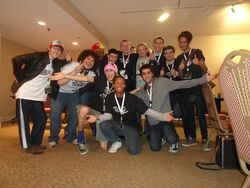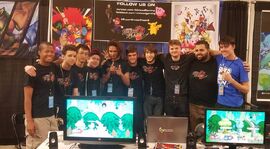 A Super Smash Flash 2 developer, commonly referred to as an SSF2 developer, or simply a dev, is a person who actively contributes to the development of Super Smash Flash 2. Together, the Super Smash Flash 2 developers form the development team known as SSF2 Team, which is owned by McLeodGaming and is often attributed to the game separately from the company.
SSF2 Lead Developers
Group leader
Group members
SSF2 Developer's Section
SSF2 Lead Devs have access to a private and special forum known as the SSF2 Developer's Section. In this forum, the Devs discuss the current status of the production of SSF2. The suggestions and ideas found here, unlike those posted in the normal SSF2 Discussion forum, are more likely to be used in the game. In addition to having access to the Dev Forums, Devs are allowed to use the early demo, and have access to many private tools.
SSF2 Dev Blog
Main article: Super Smash Flash 2 Dev Blog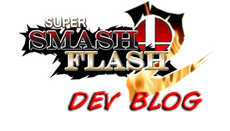 The SSF2 Dev Blog is a chronicle which shows off some new features that will be included in the following version of the game. It contains detailed information about SSF2's production from the Developer's perspective, as well as some inside information. The first iteration covered v0.8 and ran on a weekly basis from October to December 2011. For the first month, it covered some general features, such as improved graphics and AI, while the rest of the blog focused on the changes made for each character individually. The second iteration was confirmed in early 2016 as part of the developers' plans for the year, and is currently covering the development status for SSF2 Beta. The Beta Dev Blog started on March 3, 2016, and a new entry was added every Friday until July 8, 2016, when it ended.
Development branches
The following are numerous user groups created to keep track on different branches of the game, in these groups, user may or may not be under the "SSF2 Dev" tag but have been nonetheless incorporated into the group for the sake of their contributions.
SSF2 Audio Department
The SSF2 Audio Department is a user group dedicated to users who work on audio for SSF2, including voice acting, custom background music and custom sound effects.
Group leader
Group members
Username
Chernabogue
jvonm
SaladUK
SSF2IsQuiteBoring
thegreataphish
treetrunker
SSF2 Balancing Department
The SSF2 Balancing Department includes users assigned to balancing the stats and traits of moves and characters in SSF2 - which also doubles as a proving ground for coding applicants. Unlike the SSF2 Devs, users in the SSF2 Balancers have limited access in the SSF2 Developer's Section - as they can only see and post in the SSF2 Character Balancing subforum. Balancers are accurately described as "Halfway between heaven and hell," denoting that they are more than a non-Dev, but less than a Dev. Naturally, it is not uncommon for upstanding Balancers to be promoted to full Devs.
Group leader
| Username | Real Name |
| --- | --- |
| [TSON] | James Hadden |
Group members
SSF2 Coding Department
The SSF2 Coding Department houses any user that handles advanced coding aspects of SSF2, the primarily are the ones that introduce characters, stages, items and similar stuff into the game and have to make sure they work properly without glitching, the also pave a way so balancers can start doing their job.
Group leader
| Username | Real Name |
| --- | --- |
| [TSON] | James Hadden |
Group members
Username
135
194
Gespenst Ritter
ProtonicShadow
Quote
Shadow624
Sirtopeia
SoldierSunday
Tac3
Xyless
SSF2 PR Department
The SSF2 PR Department, shot for Public Relations Department, works on all the networking and game promotional material for SSF2. As of now, it only includes one user.
Group leader
| Username | Real Name |
| --- | --- |
| [TSON] | James Hadden |
SSF2 Sprite Department
The SSF2 Sprite Department handles spriting for SSF2, whether it is a character and his/her complete moveset or a new stage.
Group leader
| Username | Real Name |
| --- | --- |
| ElvisDitto | Chris Hubac |
| Zero Insanity | Jamal Ransaw |
Group members
Username
Hyper-sonicX
Neron
PixelBoy
ppspid3y916
Reix
Shadow624
Tac3
Tupilluis
Turbo
SSF2 UI/UX Department
The SSF2 UI/UX Department is the one in charge of handling user interface and user experience design for SSF2.
Group leader
| Username | Real Name |
| --- | --- |
| Cleod9 | Gregory McLeod |
Group members
Username
[TSON]
Neron
Zero Insanity
Trivia
Initially, the SSF2 development team was denoted by a special usergroup in the McLeodGaming Forums, which was created in 2008 in order to keep track of development. However, this usergroup is no longer up-to-date.
External link
Community content is available under
CC-BY-SA
unless otherwise noted.