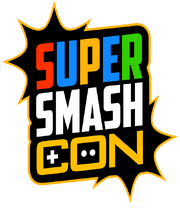 Super Smash Con 2019 was the fifth annual fan convention of the Super Smash Con series that was celebrated from August 8–11, 2019 at Chantilly, Virginia, US.
On February 5, 2019, McLeodGaming retweeted Super Smash Con's tweet about the 2019 event. They also tweeted confirmation that they will be attending the event and that there will be a booth dedicated to Super Smash Flash 2. A more formal announcement was later made by Gregory McLeod on the McLeodGaming Forums[1], Facebook[2], and Twitter[3] confirming that the booth would be available for friendly matches of the latest developmental build of SSF2 Beta 1.2, which would be live-streamed during the event. On July 20, 2019, McLeodGaming released a video to their YouTube channel revealing improved costumes, which would debut at the event.
The booth opened on August 8, which McLeodGaming referred to as day 0. On this day, it was revealed that three new characters and stages would be revealed over the course of the event, one character and stage per day, with the third and final character being Waluigi. In addition, The World That Never Was was shown off in gameplay, alongside a new Group results screen, visual updates to the menus, and updated costumes for Mario, Peach, Bowser, Wario, Krystal, Zero Suit Samus, Isaac, Lloyd, Bomberman, Simon, Luffy, Ichigo, and Sandbag. On day 1, Lucario was revealed as the first new character of the event, and Sky Pillar was revealed as a stage. On day 2, a twenty-person tournament took place in which Malk was ultimately the winner. Immediately afterward, Ryu was revealed as the second new character, with Suzaku Castle being his home stage. Later that night, several of the developers streamed themselves playing friendly matches of Super Smash Bros. Ultimate as a bonus stream. On day 3, Waluigi was revealed, and Krazoa Palace was revealed as the third new stage.
Tournament results
Twenty people entered the tournament that took place on day 2, and many of its matches were shown on McLeodGaming's stream.
| Place | Name | Character(s) |
| --- | --- | --- |
| 1st | Malk | |
| 2nd | Grayson | |
| 3rd | PK Fire | |
| 4th | Slime Mage | |
| 5th | Blue Moon | |
| 5th | Aruru | |
| 7th | Gold Lantern | N/A |
| 7th | DBN | |
| 9th | hiphopfrogs | N/A |
| 9th | N | N/A |
| 9th | Koopakid | |
| 9th | Thc | N/A |
| 13th | Holocron | |
| 13th | Gold | N/A |
| 13th | UCG | N/A |
| 13th | tumut tony | N/A |
| 17th | Xsenia22 | N/A |
| 17th | MasterWex | |
| 17th | Blaze | |
| 17th | Coolzone227 | N/A |
Prints
Trivia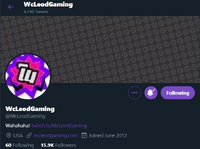 During day 3 of the stream, McLeodGaming celebrated Waluigi's gameplay reveal by changing certain elements of their official outlets. However, they were all reverted back to normal the following day.

The on-screen name of their Twitter account was changed from McLeodGaming to WcLeodGaming, and the biography was also changed to reference Waluigi's laughter. Additionally, the profile photo was changed to fit Waluigi's motif, with the fist on the logo being flipped upside down, the explosion in the back being colored purple, and Waluigi's mustache being added.
The color of the Regulars role in their official Discord server was changed from orange to purple, referencing the color most associated with Waluigi.
References
External links