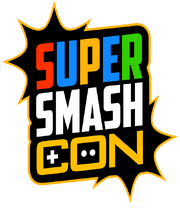 Super Smash Con 2018 was the fourth annual fan convention of the Super Smash Con series celebrated from August 9–12, 2018 at Chantilly, Virginia, US.
On April 29, 2018, McLeodGaming announced through Twitter[1] the "early bird" registration for Super Smash Con 2018, confirming their act of presence at the forthcoming convention. A more formal announcement was made by Gregory McLeod on the McLeodGaming Forums[2] and Facebook,[3] confirming a booth dedicated to Super Smash Flash 2 for friendly matches. On Twitter, McLeodGaming confirmed that three new characters would be revealed at the convention on August 10th, 11th, and 12th respectively.
The booth opened on August 9, which McLeodGaming referred to as day 0. No major new announcements were made on day 0, but new portrait art for Yoshi was shown. On day 1, the first new character was revealed to be Simon alongside a trailer mocking the fact that Simon was revealed to be playable in Super Smash Bros. Ultimate two days prior, and a resprite with new portrait art for Ness was also shown. On day 2, the second new character was revealed to be Krystal, and a resprite for Kirby was shown as well. On day 3, Rayman was revealed to be the third new character, and the surprise announcement was made that Waluigi would begin development as a playable character after the end of the event. Additionally, Venus Lighthouse, a stage from the Golden Sun series first shown at Super Smash Con 2016, was shown for the first time since that event on day 3 with new sprites.
Posters
This section may require some new

images

.

---

Whether it is a new image or simply a higher quality update, upload the new file and add it into the section. Remember to always upload an updated file under the same name as the older version to supersede it.
References
External link