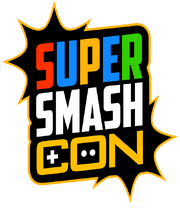 Super Smash Con 2017 was the third annual fan convention of the Super Smash Con series celebrated from August 10–13, 2017 at Chantilly, Virginia, US.
McLeodGaming announced through Facebook[1] and the McLeodGaming Forums[2] that they would be attending Super Smash Con 2017 once more to host a booth dedicated to Super Smash Flash 2 Beta where developers would host their first ever SSF2 panel, where they would discuss various aspects of the game's development and a space for questions and answers.
As usual for the event, several announcements were made per day as the event enveloped: on day 0, a resprite for Yoshi was revealed in addition to his updated artwork and a resprite for his home stage, Yoshi's Island; on day 1, a new stage called Palutena's Shrine from Kid Icarus was revealed; there was no special announcement on day 2, instead, a full-fledged tournament took place. A revamped results screen was presented on day 3. The most notable announcement, though, came on day 4, which had the reveal of Pichu as a new playable character; additionally, a new arena sub-mode was revealed: Sandbag Basketball.
Posters
Footage
References
External links