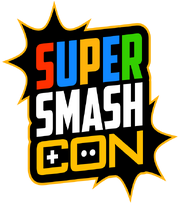 Super Smash Con 2016 was the second annual fan convention of the Super Smash Con series that was celebrated from August 11–14, 2016 at Chantilly, Virginia, US.
On January 15, 2016, Gregory McLeod made several announcements about McLeodGaming's plans for 2016, among them was a confirmation about McLeodGaming return to Super Smash Con. However, he did not provide any further details about what would be present at the convention.[1]
On August 1, 2016, 10 days prior the beginning of the event, it was confirmed via Facebook that new, never-seen-before content in Super Smash Bros., was to be presented during the event.[2] It has since been revealed that three new characters will be revealed over the course of the convention.
During the event, three new playable characters were revealed on the streaming starting on Day 2 with veteran Falco from the Star Fox series. The next reveal happened on Day 3 with newcomer Bandana Dee from the Kirby series, and on Day 4, the final reveal had Luffy from the manga and anime series One Piece, being one of the most requested characters by fans. With these reveals, it was confirmed that the starting roster was finally completed.[3]
Posters
Footage
References
↑ http://forums.mcleodgaming.com/viewtopic.php?f=3&t=42694 Accessed on January 16, 2016
↑ https://goo.gl/Pmyiyd Accessed on August 11, 2016
↑ https://goo.gl/AIuIas Accessed on August 14, 2016
External link
Community content is available under
CC-BY-SA
unless otherwise noted.