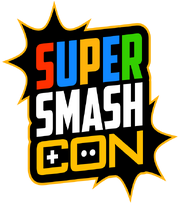 Super Smash Con is an annual entertainment fan convention held annually in Chantilly, Virginia, US, focusing on numerous games events, merchandising and gaming tournament. Despite the name, the convention is not completely Super Smash Bros.-centered, as exhibitors, vendors, competitions, games and franchises from other companies are present at the event. It, however, features a full sized Super Smash Bros. tournament.
McLeodGaming at Super Smash Con
McLeodGaming has assisted to all Super Smash Con events held so far since its first convention on 2015. Much like its former presence at the APEX tournament events, McLeodGaming attends with an exclusive booth where attendants are be able to play the forthcoming version of the Super Smash Flash 2 Demo with gameplay livestreams shown at the site's official Twitch account for people who could not assist to the convention.
At the 2015 convention, McLeodGaming showcased the APEX 2015 build of Super Smash Flash 2 Beta. For the second convention in 2016, a more developed build of the Beta version was showcased with the usual online streamings; additionally, new playable characters were revealed during the days the event lasted. The third convention in 2017 followed more or less the same schedule of the 2016 convention with a newer build of Beta, and new announcements focusing on new and updated aspects of the game were made each day with, notably, McLeodGaming hosting the very first SSF2 panel, which consisted of developers discussing various aspects of the game's development and a space for questions and answers. A small tournament for SSF2 was also hosted and livestreamed at the convention in which players who entered would compete for prizes. The fourth convention in 2018 once again followed a similar schedule with a newer build of Beta showcased and announcements for it made each day, as well as another small tournament being held and, for the first time, merchandise being for sale at the booth. This schedule was repeated for the fifth convention in 2019.
External link
Community content is available under
CC-BY-SA
unless otherwise noted.