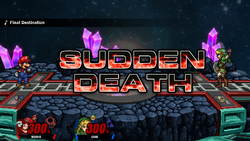 Sudden Death is a special event unique to the Group mode of Super Smash Flash 2. It occurs in time matches and timed stock matches when the time runs out and there is a tie in score or stocks between multiple characters for first place. It may also occur in stock matches when two or more characters lose their final stock simultaneously. The tied opponents fight with 300% damage and one stock each, and the last one alive is the winner of the match. After about 50 seconds, Bob-ombs start to drop on the stage to KO the players.
Although Sudden Death is a recurring event present in all the official Super Smash Bros. games, it was not present in the original Super Smash Flash. Instead, matches where multiple players are tied for first place simply end in a draw.
Gallery
Trivia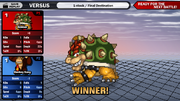 If all fighters are KO'ed at the same time after a Sudden Death, the results screen will show all of them as winners (as evidenced no one is clapping to the winner).