This article is about the attack in Super Smash Flash 2. For the Super Smash Flash variant, see Standard attack (Super Smash Flash).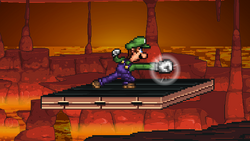 A standard attack, also known as Jab, and A, is an attack in Super Smash Flash 2 performed by pressing the attack button while the character is standing. Unlike its predecessor, Super Smash Flash 2 encourages better Smash physics, and as such, standard attacks work similarly to how they do in the official Super Smash Bros. games. Standard attacks are typically fast, short-ranged, weak hits that are useful for starting combos or breaking opponents. Many jabs, such as Mario's or Link's, form natural "neutral" combos of two or three hits, with the final hit usually inflicting the most damage and knockback. Others, such as Kirby's or Pikachu's, include weak multi-hit attacks before the final hit that opponents must often use directional influence in order to avoid, as they can often be used for an infinite amount of time. As such, these attacks are called "infinite jabs" or "infinite combos". Most infinite combos can be held in order to be looped, although some must be manually pressed, multiple times.
The speed at which each hit in the sequence of a neutral combo is executed can be controlled through the timing of a player's button taps. Combos may be interrupted by crouching or shielding in order to restart them or to perform other moves quickly after canceling.
List of standard attacks
Character
Neutral combo
Infinite
Description
Damage
Bandana Dee
3 hits
Stabs his spear three times.

2%




3%




4%




9%

Black Mage
2 hits
Throws two quick punches.

2%




5%




7%

Bomberman
3 hits
Does a left hook, a right hook, and a headbutt.

2%




2%




5%




9%

Bowser
2 hits
Hits with one claw, then with his other claw.

6%




12%




18%

Captain Falcon
3 hits
Does a punch, a faster punch, then hits with his knee. His infinite combo is a rapid series of punches, which is known as the "Gentleman".

3%




2%




5%




2%

Chibi-Robo
2 hits
Throws a punch, then kicks.

3%




5%




8%

Donkey Kong
2 hits
Does a hook punch and an uppercut punch.

4%




6%




10%

Falco
2 hits
Does two weak knifehand swipes. His infinite combo is a series of very quick spins with his arms out.

4%




4%




1%

Fox
2 hits
Does two punches (the first one can be followed up with a grab), then kicks. His infinite combo is a series of rapid kicks.

2%




2%




1%

Goku
2 hits
Does a palm strike with one hand, then punches with the other hand.

3%




3%




6%

Ichigo
3 hits
Slashes vertically in front of him, does a horizontal slash across in front of him and slashes up over his head.

4%




4%




4%




12%

Isaac
1 hit
Summons the Psynergy hand, pushing opponents away.

8%

Jigglypuff
2 hits
Executes two quick, short range punches. Not a launcher.

3%




3%




6%

Kirby
2 hits
Does a one-two punch combo. His infinite combo is a Vulcan Jab, a series of rapid punches.

2%




3%




2%

Krystal
4 hits
Quickly swings her staff forwards, then kicks twice while spinning in-place, and finishes with a spinning back kick.

3%




1%




3%




5%

Link
3 hits
Performs an inward slash, an outward slash, and a forward stab.

4%




3%




5%




12%

Lloyd
2 hits
Slashes forward, then slashes upward. His infinite combo is Sword Rain, a series of frontward slashes.

3%




4%




1%

Luffy
2 hits
Does a weak punch. His infinite combo is Gum-Gum Gatling Gun (

ゴムゴムの銃乱打

), a series of rapid punches that can be ended with a more powerful, long ranged punch.

2%




1%




7%

Luigi
3 hits
Does two weak punches, then performs a hip thrust.

3%




2%




5%




10%

Mario
3 hits
Does two quick jabs with his fists, then kicks forward, with his foot expanding greatly during the attack. It resembles the Punch + Punch + Kick combo from Super Mario 64.

3%




2%




5%




10%

Marth
2 hits
Swings his sword upwards behind himself, then swings upwards in front of himself.

4%

/

6%




4%

/

6%




8%

/

12%

Mega Man
3 hits
Shoots three boomerangs from his arm cannon. Can hit again on the way back. Based on Quick Boomerang from Mega Man 2.

1%




6%

Meta Knight
Infinite hits
Swings his sword around him rapidly for as long as the input is held.

2%

Mr. Game & Watch
1 hit
Pulls out an insecticide pump and shoots from it. It is an infinite combo, though it is maintained by repeatedly pressing the attack button. Based on Greenhouse.

3%

Naruto
3 hits
Does a left jab, then a left side kick in the opponent's midsection, finishing with a spinning back kick.

4%




4%




5%




13%

Ness
3 hits
Punches straight forward twice, then kicks forward.

3%




2%




5%




10%

PAC-MAN
3 hits
Punches straight forward twice, then does a backflip kick.

3%




2%




4%




9%

Peach
2 hits
Slaps opponent, and does a backhanded slap.

3%




3%




6%

Pichu
1 hit
Headbutts continually. Infinite combo.
2%
Pikachu
1 hit
Headbutts continually. Infinite combo.

2%

Pit
3 hits
Slashes twice, then does an upward swipe.

2%




2%




5%




9%

Rayman
3 hits
Does a weak punch, then a medium punch, and finishes with a strong punch. The range increases with each punch.

2%




4%

Samus
2 hits
Does a punch, then a downward attack with her arm cannon.

3%




7%




10%

Sandbag
1 hit
Does a headbutt. Good knockback for its speed.

9%

Sheik
2 hits
Does a quick punch, then throws a second punch at opponent with other hand. Her infinite combo is her thrusting her hand rapidly.

3%




3%




1%

Simon
2 hits
Continues to swing his whip in a circle as long as the attack button is held down.

2%-6%




4%-7%




6%-13%

Sonic
3 hits
Does a left jab, a right jab, and then kicks.

2%




2%




3%




7%

Sora
2 hits
Swipes with the Keyblade vertically downwards twice, with more knockback the second time.

3%




3%




6%

Tails
3 hits
Does a punch, does another punch, then dashes forwards and frantically moves his arms and legs around.

2%




2%




9%




13%

Waluigi
TBA
Wario
2 hits
Does two hooks while moving forward.

5%




6%




11%

Yoshi
2 hits
Does a pushing kick and a rising kick.

3%




6%




9%

Zelda
1 hit
Thrusts a hand in front of her, zapping the opponent with magic.
6%
Zero Suit Samus
3 hits
Does a palm strike, a pistol whip and a hip thrust.

2%




2%




2%




6%
List of Final Forms' standard attacks
Character
Neutral combo
Infinite
Description
Damage
Bankai Ichigo
3 hits
Slashes vertically in front of him, slashes horizontally in front of him then moves forward slightly and does an 180-degree slash, hitting all enemies around him. The blade slows slightly when hitting backwards, making Ichigo prone to six o' clock (from the behind) counterattacks. Ichigo's arcing blade hits an opponent multiple times, but one hit will always deal the same amount of damage.

12%




6%




18%




36%

Kyūbi Naruto
2 hits
Slashes forward in front of him with his claws, then slashes upwards with claws.

5%




6%

Super Saiyan Goku
1 hit
Does a sequence of a rapid and quick punches.

6%




4%

Wario-Man
2 hits
Does a punch and an uppercut.

4%




5%




9%
Gallery
Trivia