Solo is a single-player game mode in both Super Smash Flash (called 1-P Mode in that game) and Super Smash Flash 2, that includes several games designed specifically for one player, such as campaigns to defeat a series of computer-controlled opponents, events that have specific goals to clear, mini-games to test the player, etc. Players are given numerous rewards and other collectibles by clearing single-player modes.
In Super Smash Flash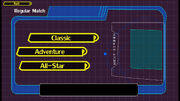 In the original Super Smash Flash, 1-P Mode features three game modes available for the player. In Classic, players go through a series of different stages in which they battle computer-controlled opponents. Similarly, Adventure has players traverse different levels filled with enemies and different tasks. Both modes also present special bonus games. Players can also unlock All-Star to battle every playable character in the game with a limited amount of recovery items. Players can also participate in Stadium for several other mini-games to test their abilities and set new records. There is also a Training mode so players can practice fighting.
In Super Smash Flash 2
There are several new games and additions for the reboot. Classic returns mostly unchanged with a few more levels. All-Star also returns mostly unchanged, but with new characters to fight and more stages to fight on. There are also Events, which are specialized matches that each have a unique task and require certain requirements to be cleared. Training returns with more customization options for the player, and Stadium also returns with additional mini-games.