This article may require some new

images

.

---

Whether it is a new image or simply a higher quality update, upload the new file and add it into the article. Remember to always upload an updated file under the same name as the older version to supersede it.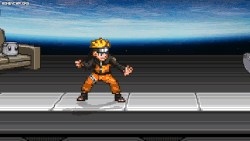 A short hop (ショートジャンプ), abbreviated SH, is a form of movement in the Super Smash Flash series in which a character jumps lower than in a normal jump, resulting in a variety of uses.
In Super Smash Flash, the short hop is performed by pressing the jumping button while holding the crouch button. It is not very useful, as the game's aerial attacks behave exactly like its ground attacks.
Although characters can use their down aerial out of a short hop, most down aerials possess a high amount of lag and short horizontal range. Lastly, down aerials, on hit, will exert the same function as up aerials, which are more versatile.
In Super Smash Flash 2, the short hop is performed by pressing the jump button and letting it go before the player leaves the ground. It is greatly used in medium to high levels of play. It allows players to perform aerial moves closer to the ground. This is highly useful during the neutral game for starting combos and approaching grounded targets while using aerial attacks.
Short hops in Super Smash Flash
Short hops in Super Smash Flash 2
Trivia
In SSF2's Super Smash Flash mode, characters can perform short hops midair, due to how the midair jumping animation is coded in that mode.