It has been suggested that this article be

renamed

.

---

The editor who added this tag believes this article should be renamed as:
Clean hit - Late hit
Refer to the talk page to discuss this proposal and move the page's name only after an agreement has been formally reached.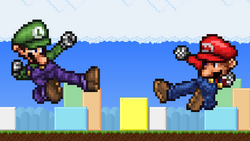 A sex kick is an aerial kick that is strong during its initial thrust, but weakens over time. They were first introduced in Super Smash Flash 2, although similar attacks exist in Super Smash Flash.
Most sex kicks' initial hits are strong, quick and send at a low angle, making them useful for get-off-me situations and KOing off-stage. Their late hit usually has a long duration and moderate strength, allowing strings and easy intercepting of opponents. There are other types of moves that behave similarly, such as Captain Falcon's forward aerial and Peach's neutral aerial.
List of sex kicks by character