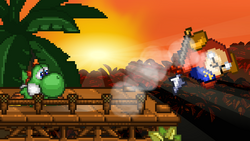 Semi-spikes are attacks in the Super Smash Bros. series and in the Super Smash Flash series that send opponents at a very horizontal trajectory, which, due to the foes' gravity, can end up sending them slightly downwards. This is what makes it different from meteor smashes and spikes, which directly send opponents downward.
In Super Smash Flash
In Super Smash Flash, attacks will semi-spike opponents most of the time. Attacks with horizontal knockback will always semi-spike foes, while up attacks and down aerials (as well as some other moves in specific characters), despite sending opponents vertically by default, will, due to the instant-KO bug, frequently semi-spike opponents as well.
In Super Smash Flash 2
In Super Smash Flash 2, the physics were changed to be closer to the official Smash games, causing moves to have different knockback tragetories, and thus, only specific moves can semi-spike opponents.
List of semi-spikes by character
Gallery
Screenshots