For the wiki's guidelines, see McLeodGaming Wiki:Ruleset.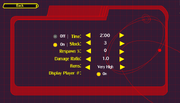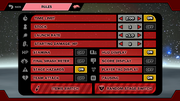 The Rules screen is a sub-menu in the Super Smash Flash series that allows the player to select or condition a match in Group before it is played.
Rules
These are the following rules found in both games. A row separated by a slash means how said rule is referred to as in Super Smash Flash (for the first one) and Super Smash Flash 2 (for the latter):
Time / Time Limit: Puts a time limit on a match. Once the time runs out, the player or team with most points wins. The time limit can be set from 1:00 minute to 99:00 minutes.
Stock: Sets an amount of lives for each player. The last team or player standing wins. The stock range is from 1 to 99. If a time limit is also activated, the rules for both Time and Stock apply.
Damage Ratio: Chooses the ratio of each damage the player inflicts on their opponent. Can be set from x0.5-x2.0.
Items / Item Frequency: Sets how frequently items appear on the stage.
Respawn % / Start Damage: Sets how much damage each player starts the match with.
Display Player # / Player Display: Sets the player display/label on or off.
Hazards: Chooses whether stage hazards appear on a stage or not. Appears in SSF2 only.
Team Damage: Allows teammates in Team Battle to attack each other. Appears in SSF2 only.
Item switch: Allows the player to customize which items appear in a match. There is also an "All" switch which allows the player to turn all items on or off at once. Appears in SSF2 only.
Random Stage Switch: Allows the players to choose which set of stages will have a chance to appear when the players select the random button. Appears in SSF2 only.
Gallery
Super Smash Flash
Super Smash Flash 2
Community content is available under
CC-BY-SA
unless otherwise noted.