Dr. Geno

Ramsey Kaid (right) and former SSF2 Developer, Alex "Tid" Knowles (left).
Full name
Ramsey Kaid
Alias
Geno, Dr. Geno, ♥♪!?
Join date
27 January 2017
Gender
Male
Rank
SSF2 Developer, forums administrator
Main role
Character development
Location
USA
Ramsey Kaid, also known by the alias Dr. Geno or simply Geno, is a SSF2 Dev known to do spriting and graphical effects. He is also a administrator at the McLeodGaming Forums.
As a Super Smash Flash 2 Developer
Ramsey's work for SSF2 ranges across many different categories. Not only known to be able to sprite, Ramsey is also a sprite artist, character coder, and has done updates for the SSF2 DOJO!!!.
Outside of SSF2
Outside of his work as an SSF2 Developer, Ramsey is an member of the The Lounge Section. Furthermore, Ramsey spends some time developing his art skills in the McLeodGaming Art Section.
Sempiternal
Ramsey has been working on Sempiternal since he started high school. He is constantly refining character designs, and improving and finalizing the story.
Sempiternal follows the stories of two young children born in The Divided Kingdom. Every other Generation, two children are born with what is called the Sempiternal, which is a deformity in one of the iris. Sempiternal has been a religious symbol for centuries, and the need to keep the two Sempiternal separated is the sole reason for the kingdom being split into two sides.
Incompetence MG comic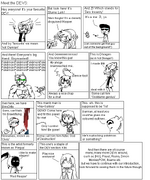 Ramsey has appeared in many of Damian's MG comics. His first appearance depicted him as a pleasant guy who was brainwashed by his "Muctache'd ahoge" (Japanese for Idiot Hair, or a Cowlick). In later comics, he is seen conversing with Damian whether it be fighting, or having a chat.