Porygon2


Porygon2 in Super Smash Flash 2.
National Pokédex 

№

#233
Species
Virtual Pokémon
Type
Normal
Move
Tackle
Rarity
Common
Porygon2 (ポリゴン2) is a Normal-type Pokémon. In Super Smash Flash 2, Porygon2 is a Pokémon that can be released from a Poké Ball to aid the player.
Pokémon description
Porygon2 is a rounded, pink, digital Pokémon that shows similarities to a drinking bird. It has a relatively flat bill and large, round eyes. Its legs are simple ovoid growths along its sides, and its tail widens towards the middle. Its bill, legs, tail, and underside are blue. It was upgraded to work in space, although its inability to fly limits this ability. It is artificially intelligent, and is capable of learning new behaviors on its own. As a result, it will sometimes perform motions or abilities that are not in its programming. It is generally found in computers or in labs and other buildings working with people. Porygon2 and its evolutionary family, Porygon and Porygon-Z, are the only known Pokémon that learn Conversion and Conversion 2.
In Super Smash Flash 2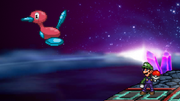 As stated above, Porygon can be released from a Poké Ball in SSF2. It appears alongside its prevolution Porygon and evolution Porygon-Z, and it is considerably stronger than Porygon in the evolutionary line. Upon being released, Porygon will rush forward using Tackle, dealing high knockback and 27% damage on any opponent within its path.
Gallery
Screenshot