It has been suggested that this article be

merged

with.

---

The editor who added this tag believes this article should be merged with the following:
Shield
Refer to the talk page to discuss this proposal.
This article is in need of a

cleanup

.

---

It has an informal appearance and does not meet the current standards of the McLeodGaming Wiki.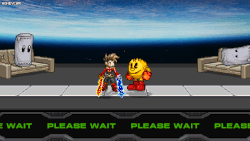 Out of shield, abbreviated as OoS or called Out of shield options, are options that a character can perform while shielding, or right after finishing the shield animation. These options are mostly used when a player is put on the defense and has to deal with shield pressure. Certain attacks will leave players in enough shield stun to prevent them from counterattacking. This can be avoided if the player perfect shields their opponent's attack, which will leave them open to a counterattack. Out of shield options were not possible in the original Super Smash Flash due to shields not being in the game. However, due to the addition shields in Super Smash Flash 2, out of shield options are possible.
Universal out of shield options
Universal out of shield options are options that every character can perform while they are in shield.
Up specials out of shield
Every character can perform their up special out of shield to deal with shield pressure. However, while some characters up specials are really useful due to them having a hitbox, some do not and can leave the player open.
Down specials out of shield
Certain characters have down specials that fast enough to punish opponents when jumped out of shield.
Fox's Reflector can be used out shield if the player is fast enough to cancel the momentum from the jump by using the Reflector in time. The fact that the move comes out in one frame makes it a very useful move and that the reflector can be jump canceled to perform similar other out of shield options makes the move more useful.