Options is a menu in the Super Smash Flash series, accessed from the main menu, that allows players to change and configure several settings of the game.
In Super Smash Flash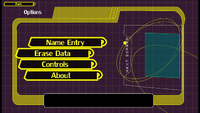 From this menu in the original Super Smash Flash, players can change the selected username of the save file, erase all the save data, or take a view at some information about the game regarding character's licenses, copyrights and a link that takes to the McLeodGaming website. Exclusively for the EXE (downloadable) version, players can also change the controls configuration and customize it the way they want, it is possible to change the configuration for both player 1 and player 2, it is also possible to reset any pre-set control settings to the default settings.
In Super Smash Flash 2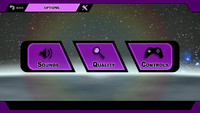 This menu in Super Smash Flash 2 features some different settings compared SSF's, with many options getting moved to other menus like erase data, which is now found in the data section, or getting removed altogether, like the about section. There is a sound option that lets the player adjust audio volume of the game's music, sound effect and character's voices. Players can also adjust the quality of the game to enhance the game's performance with jagged sprites and blurred fullscreen mode or optimize the game's visuals with smooth sprites and high detail full screen mode. The only returning setting is the control customization screen, which has been expanded to accommodate the improved moveset of the characters and up to four configurations can be saved, it now available for both browser and downloadable versions of the game. Unlike SSF, it is not possible to reset the control settings to the default settings, the only way to do this is to erase all the save data.