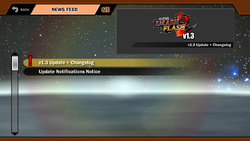 News Feed is a menu option in Super Smash Flash 2. It contains news entries pertaining to the game provided by McLeodGaming, which can be clicked on and read. When a new entry is added, a notice is displayed upon loading the game, and the name of the newest entry is displayed on the menu option the at the top of the screen.
All news entries are provided through the Internet and temporarily downloaded upon starting the game, and they get deleted upon closing the game. If the game is unable to connect to the server, then the menu option will read "No news currently available" and the player will be unable to open the News Feed menu.
List of news entries
Below is a list of the news entries currently available in the News Feed as of Beta 1.3.1.
Thumbnail
Description

Update Notifications Notice
Update Notifications Notice:

Please note that from version v1.3 onwards, update notifications will take place via the in-game newsfeed in place of the auto-updater in the installer versions of SSF2 for Windows/Mac. As future updates are released, you'll be able to see notifications (like the one you're currently reading) that contain links directing you to SSF2's download page for you to grab the latest update.

v1.3.1 Update + Changelog

SSF2 update v1.3.1 has arrived! In this update:


* Krystal and Ganondorf Final Smashes added
* Sandbag resprited
* Final Smash Meter option added to Rules menu
* Final Smash activation cut-in animations added
* New Stage: Fairy Glade
* New Rules menu options for score display, hud display, and pausing
* New Final Destination theme music
* Miscellaneous bug fixes, balancing, and more

v1.3.0 Online Notice
v1.3.0 Online Mode Notice

In order to ease the transition to the v1.3.1 release of SSF2, we have extended online support for the previous patch v1.3.0 from now all the way through the weekend of August 14th-15th. During this limited time MGN services will continue to support online mode for SSF2 v1.3.0.

Have fun!
Former news entries
As new news entries become available in the News Feed, previous ones are often removed. Below is a list of the news entries that are no longer available for viewing.
Thumbnail
Description

Thanks from MG Insiders!
MG Insiders would like to thank you for subscribing!

We hope you enjoy your early access to SSF2 Beta v1.2.1 :)

Get access to SSF2 updates early with MG Insiders!
Want early access to SSF2 updates before the crowd?

Sign up for the MG Insiders newsletter today to download releases a day early!

Visit

mcleodgaming.com/insiders

to find out more, or click the button below:



 LEARN MORE 


Version 1.2.2 Changelog is up!
The changelog for v1.2.2 is now available!
If you'd like a detailed list of the changes this update, press the button below:



 VIEW CHANGELOG 


Release date for July 2020 update
SSF2 update v1.2.3 arrives on July 24th, 2020!

Get notified about upcoming releases and recieve early download access
by subscribing to MG Insiders today!



 BECOME AN INSIDER 


v1.2.3 Update + Changelog
SSF2 update v1.2.3 is here! Press the button below to view the full changelog.


 VIEW CHANGELOG 



Want to be one of the first to get the access to the next release?
Become an MG Insider today! Press the button below for more info.


 BECOME AN INSIDER 


v1.2.3 Known Issues List

A few issues from newly introduced features have been reported, so we will keep you posted
on them here along with suggested workarounds:



Issue: Quitting the waiting room in online matches breaks game
Workaround: Avoid this feature until a fix is provided

MG Announces An Upcoming Platform Fighter

The next generation of platform fighting is coming...





McLeodGaming has just announced that it has a new platform fighter in the works!



Click the buttons below to find out more:


 LEARN MORE 




 GET EMAIL UPDATES 


v1.2.4 Update + Changelog
SSF2 update v1.2.4 is now available! Check out the full changelog below:


 VIEW CHANGELOG 



Want to be one of the first to get the access to the next release?
Become an MG Insider today! Press the button below for more info.


 BECOME AN INSIDER 


Save Data Issues? New Restoration Feature
Have you lost your save data from the previous release?

A new save data recovery feature has been added to the browser version of SSF2!

Simply head over to the Data Menu to find the newly added "Previous Save Files" section.
There you can export save data from past versions of SSF2 found on your device directly from the browser.

This feature will be added to the downloadable version next update as well, however be aware that you can always export old save data simply by downloading an older build and exporting it directly from there.

Fraymakers - McLeodGaming's Upcoming Platform Fighter!



 VISIT KICKSTARTER 


v1.3 Update + Changelog

SSF2 update v1.3 is now available! In this update:


- Ganondorf joins the battle!
- New Stage: Butter Building
- Revamped Fourside Stage
- New Costumes: Simon
- First batch of character-specific target tests
- All Stadium modes now support replays
- Replay auto-saving (downloadable version only)
- Replay fast-forward/slow-mo/pause added
- Improved knockback stacking behavior
- Miscellaneaous bug fixes, balancing, and more!

v1.3.0.1 Hotfix Notes

SSF2 Hotfix v1.3.0.1 was just released! In this patch:


- Restored knockback stacking capability while in hitstop (with move-specific ability to bypass stacking timer)
- Ledge-rolls onto narrow platforms now stay onstage
- Fixed inability to use C-Stick+Grab smashes
- KOing foes mid-command grab will now result in a proper stalemate
- Fixed doubling of crowd-cheer when hit multiple times and already in heavy knockback
- Updated title screen social links
- Removed pop-up message after successfully loading a replay
- Other minor balancing adjustments and fixes