Mr. Incredible

Mr. Incredible, as he appears in the Pixar movie, Incredibles 2.
Universe
The Incredibles
First appearance
The Incredibles (2004)
MG appearance(s)
Super Smash Flash
Species
Human
Gender
Male
Alignment
Good
Created by
Brad Bird
Voiced by
Craig T. Nelson
Company
Walt Disney Pictures
Pixar Animation Studios
Robert Parr, better known by the superhero identity Mr. Incredible, is the main character from the Pixar Animation Studios movie franchise, The Incredibles. He is a retired superhero whose primary superpower is his super strength. He has many problems in house and job, however, he, along with his super-powered family, has to return in action to save the world from a villain named Syndrome. He appears as a playable character in the original Super Smash Flash. Due to its infamy choice as a character in the latter, Mr. Incredible did not return for the reboot, Super Smash Flash 2, a trait that he shares with Young Link, InuYasha, Mega Man X, Blade, and Blue.
Character description
Mr. Incredible is a person from a race of humans born with superpowers, and is referred to as a "Super". He was one of the most famous heroes of his era and was known for his skill at fighting crime. At some point, he met and fell in love with fellow superhero Elastigirl. However, soon after the two wed, bystanders who had been injured during crime-fighting attempts began to sue. The backlash forced supers like Mr. Incredible and Elastigirl into retirement and witness protection. Mr. Incredible resumed the name of Bob Parr and began a civilian life with Elastigirl, now in her civilian identity as Helen Parr.
Mr. Incredible is considered one of the most powerful Supers. During his early career, he was known for working alone, something that led him to push away Buddy Pine. He possesses the powers of enhanced strength and durability, as well as enhanced senses.
In the Super Smash Flash series
In Super Smash Flash
Main article: Mr. Incredible (Super Smash Flash)

Mr. Incredible appears in Super Smash Flash as a playable unlockable character. He is unlocked by completing Classic with all 13 starter characters. Although the movie The Incredibles mainly shows him wearing a red and black suit, Mr. Incredible's suit in-game is based on the blue and black suit he wears in the opening sequence of the film. He is the only representative of The Incredibles universe.
In Super Smash Flash 2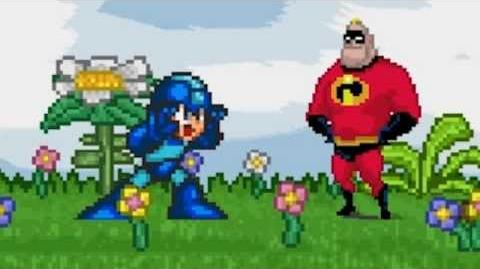 As previously mentioned, Mr. Incredible does not return in Super Smash Flash 2. However, due to his infamy for representing a Pixar film in the original Super Smash Flash, he is frequently mocked and joked about by the community and developers of the game. For instance, on April Fools' Day 2014, McLeodGaming posted a trailer supposedly revealing Mr. Incredible as a playable character in Super Smash Flash 2, this time bearing his more recognizable red suit.
Trivia
For April Fools' Day 2019, McLeodGaming announced a supposed remake for the original Super Smash Flash titled Super Smash Flash 1 HD, which would have featured updated higher-quality sprites resembling those from Super Smash Flash 2. Though Mr. Incredible was not part of the original joke (as it included a prefabricated character selection screen with starter characters only), former developer FriendAlias nonetheless created a mockup sprite for him (yet again bearing his red suit) as he thought "[the joke] wouldn't be fun without the outrageous characters" (referring to Mr. Incredible and Blue).[1]

This mockup sprite would later be used in the fake trailer "Flash of Shadows", FriendAlias's proposal for McLeodGaming's April Fools' Day 2020 joke, in which Mr. Incredible appears as a trophy.
Reference