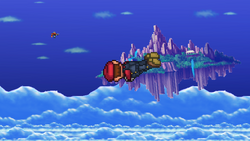 A midair jump, also known as a double jump, is a movement option in the Super Smash Flash series that gives the user a quick boost of vertical speed in midair. While jumping, a character can move left or right, carrying any horizontal momentum they had before the jump. This move is an incredibly important tool for aerial movement, and must be used wisely to ensure that one does not become vulnerable to juggling or edgeguarding.
Normally, a character is only able to jump once in midair. However, in both Super Smash Flash and its reboot, Super Smash Flash 2, several characters can perform more than one midair jump at a time.
Midair jumps in Super Smash Flash
This section requires to be rewritten or expanded.

---

The information is not outdated nor incomplete, although it can be rewritten for a more formal explanation and better clarity. It may require an expansion going further on missing details.
Midair jumps in Super Smash Flash 2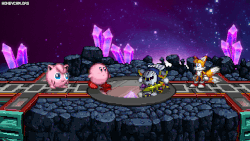 Trivia
In the original SSF, if a character walks offstage without jumping first, they will be able to use their grounded jump in midair as well, providing an extra jump.
Community content is available under
CC-BY-SA
unless otherwise noted.