For the action of jumping while airborne in SSF, see Jumping.
A midair jump, also known as a double jump, is a movement option in the Super Smash Flash series that gives the user a quick boost of vertical speed in midair. While jumping, a character can move left or right, carrying any horizontal momentum they had before the jump. This move is an incredibly important tool for aerial movement, and must be used wisely to ensure that one does not become vulnerable to juggling or edgeguarding.
In Super Smash Flash
Main article: Jumping
In Super Smash Flash, midair jumps reuse the exact same animations and coding as the characters' first jump. Therefore, technically, the game does not contain midair jumping. This property causes a bug in the game in which a character who has not jumped on the ground can use both their grounded and midair jumps after becoming airborne.
In Super Smash Flash 2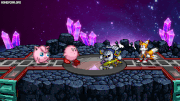 In Super Smash Flash 2, midair jumps now function uniquely from grounded jumps, featuring differing speeds, heights, and animations. Once a midair jump is made, it cannot be used again until the character lands, grabs a ledge, or is KO'd. Normally, a character is only able to jump once in midair. However, several characters can perform more than one midair jump at a time. Namely, Bandana Dee and Pit each have four midair jumps, whereas Kirby, Meta Knight, Jigglypuff, and Tails each have five midair jumps.
Certain midair jumps also have unique properties. For instance, Peach, Yoshi, and Ness have delayed midair jumps, which causes them to accelerate up to their full midair jump speeds rather than starting at said speeds. These jumps can also be canceled if the player attacks without holding the jump input. Additionally, Yoshi's midair jump has heavy armor throughout its duration.
Midair jump values in Super Smash Flash 2
Trivia
Note