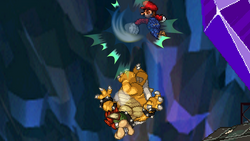 A meteor smash is an attack in in the Super Smash Bros. series and Super Smash Flash 2 series that possesses a knockback angle of between 250° and 290°, hitting the opponent almost straight down on contact. Unlike spikes, these can be meteor cancelled, as explained below.
In Super Smash Flash
Although the How to Play tutorial states that meteor smashes are present in Super Smash Flash, meteor canceling is absent from the game, making every down aerial able to spike opponents, not meteor smash them.
In Super Smash Flash 2
The physics of Super Smash Flash 2 are changed to make them similar to the Super Smash Bros. games. Meteor smashes are easy to perform on this game but still require good timing to be performed correctly. The information on the section below is subject to change.
Meteor canceling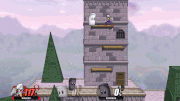 Meteor canceling, also known as meteor cancelling, is the process of cancelling the reeling and knockback applied to a player after getting hit by a meteor smash, by pressing the jump button. If the player still has midair jumps left, they will instantly midair jump. Otherwise, nothing will happen. From Beta 1.2.3.1 onwards, characters can also meteor cancel by performing their up special move.
Meteor cancelling as a whole was introduced in v0.8a of the demo, and this mechanic is what differentiates meteor smashes from spikes.
List of meteor smashes
Characters
Items
Assist Trophy
Poké Ball
Boss
Boss
Move
Notes
Master Hand
Drill
N/A
Crush
Will bury grounded opponents, instead of meteor smashing them.
Gallery
Screenshots