Marilith (マリリス), also known as Marilis, Kary, Lilith, or Maliris, is a recurring creature in the FINAL FANTASY series. Always snake-like, female, Fire-elemental, and usually sword-wielding, Marilith first appeared as a prominent boss in the original game and has since returned as a boss in others.
In Super Smash Flash 2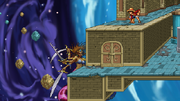 In Super Smash Flash 2, Marilith briefly appears as a background character on Chaos Shrine.