Not to be confused with List of removed content of Super Smash Flash 2.
The following list consists of unused content that was originally planned to be included in Super Smash Flash 2 before being scrapped. Additionally, any unused or removed music tracks will instead be listed here.
List of unused content
Characters

Several characters were initially planned to appear on the playable roster:
Special moves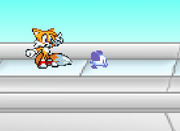 Stages
Items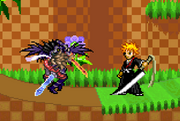 Clyde's Shoes were supposed to appear in SSF2. Equipping them would make the player move noticeably faster for a set period of time.
Light Yagami was planned to have a completely different effect before his debut in demo v0.7, where Ryuk the Shinigami would drag opponents to a blast line.
Battle Cards were confirmed to appear in-game, but were removed, as the developers found them too similar to Assist Trophies.
The Boost Pad, from the F-Zero series, was planned to be an item that could be placed on the ground, similarly to the Motion-Sensor Bomb, and gave players a momentum boost in a set direction upon contact with them.
Modes
Adventure Mode: The Flash Of Shadows was a planned story mode. Whether or not a new story mode is being developed, though, has yet to be announced.
Classic was originally planned to have a new feature called the "Peril Roulette", which would have given advantages to the opponent or handicaps to the player, depending on the difficulty setting, but the feature was ultimately scrapped.
Individual Target Smash stages were originally confirmed to be in Beta, but due to the developer spriting the stages leaving the team, the feature ended up scrapped[4].
Gallery
References
Community content is available under
CC-BY-SA
unless otherwise noted.