This article is currently under construction.

---

There is still information to be added and editors are contributing to complete it anytime soon. You can help the McLeodGaming Wiki by filling in the blanks.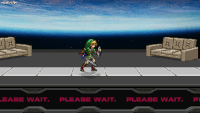 tether

duration: 19 (no landing lag)
hitboxes: 5-9
allow control: yes
maintain speed: yes
attack box

damage: 4 (3 on f9+)
direction: 25 (85 on f9+)
hitLag: (-1 on f9+)
power: 60 (26 on f9+)
knockback const: 30 (100 on f9+)
priority: -1
hitstun: 1 (3 on f9+)
self hitstun: 1 (2 on f9+)

tether detect

duration: 5
hitboxes: 1-5
width: 48
height: 28
ride ground: no
max time: 999
lock trajectory: yes
ghost: no
Community content is available under
CC-BY-SA
unless otherwise noted.