Light Arrow


Zelda firing a Light Arrow at Pit.
Universe
The Legend of Zelda
User(s)
Type
Basic
Effect
A Light Arrow is shot in a straight line, dealing high damage and knockback to opponents hit.
Light Arrow (光の弓矢) is Zelda and Sheik's Final Smash in Super Smash Flash 2.
Overview
When performed, Zelda or Sheik pulls out a massive bow and aims it forward as they set an arrow. As they pull back, a line of light appears in the arrow's path, dealing 1% damage to and paralyzing opponents hit. They then fire the arrow straight forward, dealing 42% damage and strong knockback to opponents hit, with the game momentarily freezing upon it hitting the first opponent. The two variants of the move have different knockback trajectories: Zelda's arrow launches in a diagonal trajectory, while Sheik's arrow sends opponents at a semi-spike angle. After the arrow is fired, Zelda or Sheik puts the bow away, ending the move.
Origin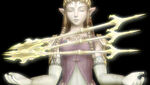 Light Arrows are a powerful weapon in The Legend of Zelda series most often used to stun Ganondorf, leaving him vulnerable to the Master Sword. Link was first able to use the Light Arrows in The Legend of Zelda: Ocarina of Time, but Zelda would eventually use Light Arrows herself in The Legend of Zelda: The Wind Waker, where she uses Link's Hero's Bow to fire them in the final battle with Ganondorf. The Light Arrows in SSF2 are based on their design in The Legend of Zelda: Twilight Princess, where Zelda is granted them by the Spirits of Light and once again uses them in the final battle against Ganondorf.
The concept for this weapon may be based on the Silver Arrows in the original The Legend of Zelda, a similar weapon which Link uses to defeat Ganon.
Gallery
Screenshots
Early designs