The Lich (リッチ), also called Rich, is a recurring enemy and boss in the FINAL FANTASY series. While he has no consistent appearance, he is always a magical-aligned undead. The Lich is sometimes teamed up with Marilith, the Kraken, and Tiamat to make the Four Fiends.
In Super Smash Flash 2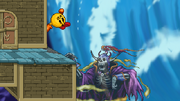 In Super Smash Flash 2, Lich briefly appears as a background character on Chaos Shrine.