Kraken (クラーケン) is a recurring enemy in the FINAL FANTASY series. Usually depicted as a human-cephalopod hybrid, Kraken is often associated with the Water element. He sometimes teams up with Marilith, Lich, and Tiamat to form the Four Fiends.
In Super Smash Flash 2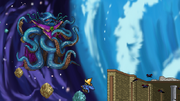 In Super Smash Flash 2, Kraken briefly appears as a background character on Chaos Shrine. He does not animate at all, and his sprite is ripped from the PSP/Mobile version of FINAL FANTASY.