This article may require some new

images

.

---

Whether it is a new image or simply a higher quality update, upload the new file and add it into the article. Remember to always upload an updated file under the same name as the older version to supersede it.
Not to be confused with invincibility frame, a property which leaves a character immune to knockback, as well as damage.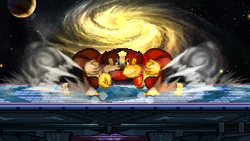 Knockback resistance is a move property in the Super Smash Bros. series and in Super Smash Flash 2 where a character is fully or partially immune to knockback. The character will still take damage, though. Grabboxes, present in grabs and command grabs, ignore all variations of knockback resistance.
Knockback resistance is split in three categories; super armor, where a character will not take any type of knockback, heavy armor, where a character is immune to knockback from moves that deal a damage below a specific amount, and launch resistance, where a character's knockback is reduced by a certain amount, and will not flinch if the result reaches zero. There are no knockback resistance mechanics in Super Smash Flash.
List of moves with knockback resistance
Below is a list of all instances of knockback resistance. If a move's duration is not specified, knockback resistance is present during the entire move.