Group is a multiplayer game mode in both Super Smash Flash (called VS. Mode back then) and Super Smash Flash 2 that allows players to engage in battles against other players or computer players under a different variety of settings, either in free-for-all or team matches. Before starting a match, players can set the rules for the matches like adjusting the amount of time, the number of stocks for each player, apply handicaps, modify the item frequency, etc. The level for computer players can also be changed by players.
In Super Smash Flash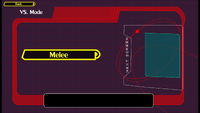 Due to Cleod9's inexperience with Flash at the time and possibly due to space limitations as well, VS. Mode in Super Smash Flash features one single game mode, that being Melee mode, which is simply an standard fighting mode where up to two players can engage in numerous battles, they can also set computer player and adjust their difficulty level and set the match rules at their preference.
In Super Smash Flash 2
Group mode in Super Smash Flash 2 is further expanded to feature new game options. Aside the regular Smash mode (the successor to Melee mode), players can also select Special Smash, which allows them to apply different modifiers that will somehow affect the course of the match like being big or small, being able to cancel a successful attack to land a new one, receive damage recoil from the attack dealt to the opponents, etc., and Arena (somehow, a multiplayer equivalent to single-player mode, Stadium), which houses various competitive mini-games, such as Sandbag Soccer and Sandbag Basketball. Players can also directly access the rules screen from this menu without having to enter the character selection screen.
Gallery
Community content is available under
CC-BY-SA
unless otherwise noted.