This article is about the founder of McLeodGaming. For the Newgrounds account, see Cleod-9.
Cleod9

Gregory McLeod in 2018.
Full name
Gregory McLeod
Alias
Cleod9, Cleod-9, Cleod, Greg, McLeod, McLeod9
Join date
2005
Gender
Male
Rank
Site admin, head of the SSF2 developers, Yeah Jam Fury developer, Fraymakers developer
Main role
Game director, main programmer.
Birth date
January 13, 1990 (age 32)
Location
New Jersey, USA
Gregory McLeod, mainly known by the alias Cleod9, is a video game designer, programmer, and composer. He is the founder and director of the independent company and website McLeodGaming. He is mostly known as the creator of the Super Smash Flash series, a series of non-profit Flash fighting games based on the Super Smash Bros. series, which have been largely well received by critics and fans alike, so much to the point of building a gaming community of their own. He is also the lead programmer and composer for the Yeah Jam Fury series of puzzle-platforming games, and he is most recently the lead programmer of the upcoming fighting game Fraymakers.
History
Early works on McLeodGaming

Originally, Gregory McLeod was a developer of games for the TI-83 Plus calculator. His first major game was called RPG and was published on ticalc.org, as well as the McLeodGaming website, which he created in 2003.
During his early high school years in 2003, McLeod developed a great admiration to Macromedia Flash animations and eventually learned to make his own Flash movies. Starting in 2005, McLeod would create and upload several Flash animations to the McLeodGaming website, with the first being His First Movie. This would be followed by several other animations such as Awkward Situations and School, as well as series such as World of Starcraft, A Super Mario World, and Animus. Several simple games were also created, including Multiplayer Pong, Impossible Pong, The Cell, and Adivina La Película.
In addition to Flash projects, McLeod composed several music pieces starting in 2005 that would be uploaded to the McLeodGaming website. During the same year, he also opened the McLeodGaming Forums, a discussion forum website for the McLeodGaming community that he would be an administrator for until its closure in 2020.
Work with the Super Smash Flash series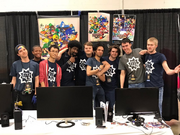 Sometime after the creation of the McLeodGaming website, Gregory McLeod had created such a large amount of Flash animations that he decided to work on his first major Flash game project. In 2006, he began working on a Sonic fan game in Flash, an action-platformer in which the player fought as Blade on a stage that one day would become Emerald Hill Zone. However, being a fan of the Super Smash Bros. series, and noticing the similarities of his fan game with a Super Smash Bros. fan game called Super Smash X, McLeod began reworking his project into a full-fledged Super Smash Bros. fan game, mainly based on Super Smash Bros. Melee. He initially referred to it as a "flash Smash project", which would be more complete than Super Smash X, possessing a full plethora of playable characters, stages, and game modes. After four months of hard work and intense testing, along with several demos documenting his progress, McLeod finished the project he later named Super Smash Flash, which released to the McLeodGaming website, Newgrounds, and Armor Games on August 21, 2006. The game was initially well-received for its amount of game modes and characters but harshly criticized for its dull and glitchy gameplay.
Despite the mixed reception, Super Smash Flash was so successful that McLeod decided to make a sequel properly called Super Smash Flash 2. It would be based on the Super Smash Bros. series as a whole, mainly Super Smash Bros. Brawl, and would include new characters, stages, game modes, mechanics, online capability, and more. The game, much like SSF, initially released as a demo and has received multiple updates since the demo's first release in late 2007. The game also featured a larger development team, which would be mainly orchestrated in a private topic on the McLeodGaming Forums for several years.
Initially, the development of Super Smash Flash 2 was handled mostly by Gregory McLeod, who was the sole programmer for the game. However, development was revamped in 2010 and started anew to change the game's old Macromedia Flash Player 8 engine to the newer Adobe Flash Player 10 engine with support from ActionScript 3. From this point onwards, SSF2 would be called a reboot to SSF, rather than a sequel, and it featured a much different and larger development team. Despite this, McLeod would remain the director and core engine programmer for the game, as well as a character programmer and the composer of the music track Majora's Mask Medley.
Work with the Yeah Jam Fury series
In late 2011, for his senior project at Stevens Institute of Technology, Gregory McLeod served as the main programmer and composer of a game called Yeah Jam Fury that he developed in conjunction with William Abeel, Chris Federici, and Rob Ertz. The game later released to Newgrounds on June 30, 2012 as a collaboration between McLeodGaming and WillyWorld Entertainment (now World Entertainment Studios). The game is a puzzle-platforming game in which the player has to switch between the three eponymous characters – Yeah, Jam, and Fury – each with different and unique abilities to reach the mango at the end of each level. It was the first game released by Gregory McLeod in six years, following the original Super Smash Flash, not counting the SSF2 demos.
Following the game's release, the developers of Yeah Jam Fury began work on an expanded version of the game, which would be released to Steam through Steam Greenlight. However, due to the switch to a new engine with HTML5, as well as the development of new content, the developers decided instead to make a follow-up featuring additional levels, new mechanics, and tougher challenges. After years of slow development, McLeod quit his job as a web developer in 2017 to work full-time on programming the game. Later that year, the game was formally revealed as Yeah Jam Fury: U, Me, Everybody!, which was released exclusively on Steam on December 15, 2017. Once again, McLeod was the lead programmer and composer, as well as a designer.
Work with Fraymakers
Starting in early 2018, Gregory McLeod led a small team of current and former SSF2 developers, later known as Team Fray, in the development of a new platform-based fighting game building off of the success of SSF2. The game would privately continue development for more than two years until finally being revealed through Kickstarter on November 18, 2020 as Fraymakers and quickly reaching its funding goal. McLeod is both the project leader and the lead programmer for the game. He is also responsible for programming and designing FrayTools, the custom content development tool bundled with the game.
Roles played
The following is a small list of characters that were voiced by Gregory McLeod in his works:
External links