Goonies (あほーどり) are enemies throughout the Yoshi series.
Character description
Goonies made their debut appearance in Super Mario World 2: Yoshi's Island. They appear in most mountain levels and are always found in groups. There are many different varieties of Goonies. There are Flightless Goonies which, as the name implies, are Goonies that cannot fly and run on the ground. There is a Dry Bones-like variety of Goonie, known as the Skeleton Goonie, which usually carries bombs. Bowling Goonies are fat Goonies that roll along the ground. Hefty Goonies are the flying versions of Bowling Goonies, and if Yoshi swallowed one of these and spat it out, it would turn into their flightless counterparts. They also appear in Mario and Yoshi games such as Yoshi's Story, Mario Kart: Super Circuit, Paper Mario, and Mario & Luigi: Bowser's Inside Story.
In Super Smash Flash 2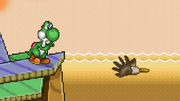 In Super Smash Flash 2, Goonie appears as a background character on Yoshi's Island (64) stage as they fly throughout the stage.