This article may require some new

images

.

---

Whether it is a new image or simply a higher quality update, upload the new file and add it into the article. Remember to always upload an updated file under the same name as the older version to supersede it.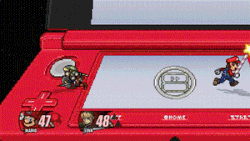 Glide toss is a technique in Super Smash Flash 2, that involves a character throwing an item, while sliding forward. As with other techniques that cause characters to slide, the technique allows characters to move across the stage while being able to use any attack or action. This technique is mostly prominent in Super Smash Bros. Brawl. This technique was not possible in early versions of SSF2, due to the characters not having item throwing animations.
Performing the technique
To perform a glide toss, the player must grab a throwable item. They must then perform a roll and almost immediately, throw the item in any direction. The character will cancel the roll and throw the item, but as the player's momentum is kept from the roll, the character will slide along the ground. The traveled distance depends on the character's traction, the direction of roll, and the direction and moment the item was thrown. In general, the later the item is thrown, the bigger the glide, as characters have more momentum further into their rolls.
It can also be executed if the player dashes, presses the opposite direction while running, and then, lastly, throws the item.