This article is about special move. For the supporting character, see Giga-Robo.
This article contains information for a confirmed feature that is not currently available.

---

The subject was confirmed by an official source, but is not present in the current version of the work bound to appear. Instead, it is meant for a future update. Any information is subject to change.
Giga-Robo


Chibi-Robo using Giga Robo.
Universe
Chibi-Robo!
User(s)
Type
Focused
Effect
Giga-Robo falls onto the stage, where it stomps on opponents.
Giga-Robo is Chibi-Robo's Final Smash in Super Smash Flash 2.
Overview
When performed, Chibi-Robo calls forth Giga-Robo, a gigantic robot that looks like Chibi, falls onto the stage where Chibi-Robo is standing. Once it lands, it stays in one place as it continuously stomps the ground with one of its enormous legs. Any opponent on the proximity of its legs as they stomp are dealt 12% damage with strong downward knockback that will meteor smash opponents in the air, or bury opponents on the ground.
Origin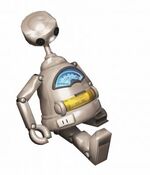 Giga-Robo made its debut in the original Chibi-Robo! game, Chibi-Robo!. It is depicted as a robot that looks very similar to Chibi-Robo, except it requires 1000 times more energy to run, is 100 times heavier, and is 10 times taller, shaking the floor beneath it when it walks. This is clearly evident on the match whenever Giga-Robo is summoned in SSF2, as its huge size takes a great portion of the stage and it makes use of its size and weight to powerfully stomp with its foot. As with Chibi-Robo, Giga-Robo was a product manufactured by the company Citrusoft to be a companion for humans. However, due to its ludicrous energy consumption that caused an energy crisis, the product was recalled, and the Sandersons' Giga-Robo in particular was left in the basement, without power and missing a leg. After the Sandersons' Chibi-Robo eventually revives Giga-Robo, the two become companions, and they both live peacefully in the Sandersons' household.
Gallery
Screenshots
Trivia
Community content is available under
CC-BY-SA
unless otherwise noted.