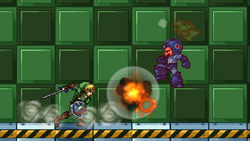 Flame is an effect in Super Smash Flash 2 dealt by certain moves. When a character has the flame status effect, the character will be tinted red, and flames and smoke will come out from the character.
Elements that deal flame damage
Trivia
Some moves in SSF2 seemingly use fire but they do not deal flame damage. An example of this is Samus' up smash.