FF redirects here. For the FINAL FANTASY series, see FINAL FANTASY (universe).
Not to be confused with fast-faller, which refers to characters that have a high natural falling speed.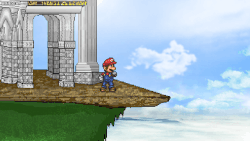 Fast falling is the act of falling quicker than usual in midair. It is performed by pressing the down button while in the air. Gravity is ignored once a fast fall has begun; the character's downward velocity is simply set to their fast falling speed without acceleration. Fast falling is mostly used after a short hop to hit the ground quicker and follow up with more attacks. It is a part of SHFFL'ing and is considered an advanced technique.
Stall-then-fall aerials have an effect similar to fast falling, though the move is an attack, and most of the time cannot be stopped or slowed.
If players press down while hanging on a ledge, their character will begin to fast fall, whereas if pressed in the opposite direction, the character will let go of the ledge. This also works with down special moves with the exception of ones that slow down falling speed or makes the character gain height (ex. Fox's Reflector and Mario's Mario Tornado).
Fast falling is with accelerated falling speed, which is the falling speed a character enters after being knocked up.
Characters fast falling speeds