Endless Smash is a Multi-Man Smash reintroduced in Super Smash Flash 2 after it was replaced by the similar Burly-Brawl Melee in the original Super Smash Flash. It challenges the player to defeat as many opponents as possible without falling from the stage, self-destructing or being KO'd. Unlike Burly-Brawl mode, the opponents are not restricted to be always be a single randomly selected character. Endless mode is also available from the start and there is no need to unlock it.
In Super Smash Flash 2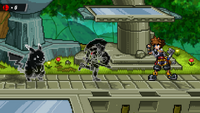 This mode is called Endless Smash as it was called in Super Smash Bros. for Nintendo 3DS and Wii U. As with other Multi-Man modes, Endless Smash is always played on Battlefield and the opponents are always the Fighting Silhouette Team, which are light and more prone to being KO'd.