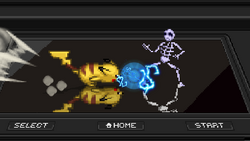 Electric is an effect in Super Smash Flash 2 that is dealt by certain moves. Whenever a character is under the electrical effect, they will be tinted blue, and sparks will come out of the character. Additionally, for certain characters and moves, their skeleton will be shown. Electric attacks also deal more hitlag than they would without the effect.
Elements that deal electric damage
Characters
Items
Assist Trophies
Poké Balls
| Poké Ball Pokémon | Move | Notes |
| --- | --- | --- |
| Ditto | Transform | Can copy playable characters' attacks. |
| Pichu | Thunder Wave | N/A |
Stage
Boss
Gallery
Main article: Electric/Gallery
Trivia
Certain characters will show their skeleton when hit by electric attacks just like Super Smash Bros..
Several characters do not have physical skeletons in their bodies, such as Bandana Dee, Jigglypuff, Kirby, Meta Knight, and Mr. Game & Watch.

Luffy and Sandbag have things inside their bodies shown instead of a skeleton. Since Luffy is rubber, his skeleton will show a slab of meat with a bone sticking through it in his stomach. In Sandbag's case, its skeleton shows a capsule inside its body.