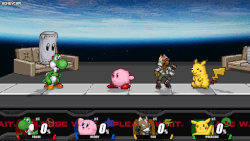 Egg is an effect in Super Smash Flash 2 normally dealt exclusively by Yoshi's Egg Lay. When a character gets hit by an attack with this property, they get temporarily encased in an egg, and cannot move, similarly to the Trophy Stand item's function. Characters encased in eggs can still get hit by attacks, and the knockback they receive is greatly reduced, allowing players to quickly rack up damage on the affected opponents.
Similarly to the stun effect, the player stuck inside the egg can mash buttons in order to get out faster, getting weakly launched upwards (albeit without hitstun) once they do escape the egg. Mashing out gets less effective as one's damage increases, however.
Playing with the Egg modifier in Special versus causes all attacks to inflict the Egg effect.
Gallery
Trivia
Egg, alongside Reverse, is the least common effect in SSF2, featuring only one attack in the game with the Egg effect.