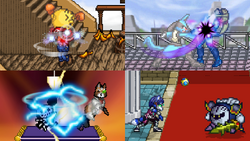 The down special move, commonly referred to as down-B, is a special move in Super Smash Flash 2 that a character may perform that involves by pressing the designated special button while holding the down key. The down special move is the only special move that does not have a pattern. Down special attacks are generally tactical moves that provide an edge, like Marth's Counter attacking anyone who tries to hit him, Goku's Kaiō-ken powering him up, Chibi-Robo's Pick Up storing enemies projectiles and Jigglypuff's Rest doing massive damage and knockback. They are entirely unique, and they often requires specific knowledge to use effectively. Super Smash Flash has an equivalent attack referred to as down attack.
List of down special moves
Transformation's down special moves
Community content is available under
CC-BY-SA
unless otherwise noted.