A down attack in Super Smash Flash, called special attack within the How to Play section (not to be confused with an actual special attack), is an attack that is performed by pressing the attack button with putting the down key. The down attack is more or less an equivalent to the down special move found in the official Super Smash Bros. games as attacks within this range include close-ranged attacks that surround the character's frame, like Cloud's Materia orbs, or launching attacks that directly make the character travel a far fixed distance, the most out of all the other attacks, like Sonic's Spin Dash.
Unlike the other attacks in the game, down attacks cannot be held indefinitely with the attack button and attempting to do so will make the character to perform their standard attack instead afterwards. However, finding and carrying an item makes it possible to hold these attacks indefinitely, as this is the only attack that is allowed to be used while holding an item.
Roll attack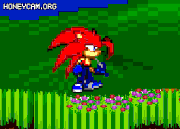 Some down attacks propel characters forward without using the character's attack boost stat as movement speed. Coined by Dark Ermac, those down attacks are referred to as roll attacks, and have unique attributes: Characters with roll attacks are able to cancel any attack into a roll attack instantly. Roll attacks ignore characters' attack boost, attack length and attack cooldown statistics. Lastly, roll attacks cannot be cancelled by simply turning around, albeit they can still be jump cancelled.
Characters without roll attacks can instead execute a technique called down augmenting, which allows the fighters' attacks on the ground to deal the same damage as said characters' down attacks. It is performed by simply pressing or holding down quickly after inputting an attack.
List of down attacks
The following is a list of all the down attacks in SSF per character, with a brief description about the move. Whether or not each down attack is a roll attack or contains a projectile will be listed as well. Characters who lack roll attacks will instead simply reuse their attack boost stat as their speed.
Down attacks in Super Smash Flash
Character

P

R

S

Description

Damage

Blade
20
Uses the Spin Dash, curling into a ball and rolling forwards while slashing.
8%
Blue
Uses the Spin Dash, rolling forward while slashing at the same time.
9%
Captain Falcon
Performs the Falcon Kick, kicking forward with his leg engulfed in flames.
7%
Cloud
N/A
Surrounds himself with colorful and damaging Materia orbs.
8%
Crono
24
Dives forwards on the ground with his katana outstretched.
6%
Fox
N/A
Uses his Reflector, covering himself in a blue short-ranged energy field, surrounding him completely.
5%
InuYasha
15
Uses Sankon Tessō to extend the range of his claws and directly scratches forwards.
7%
Jigglypuff
30
Uses Rollout, curling into a ball and rolling forward a fixed distance.
6%
Kirby
15
Slides across the ground while sticking out one of his feet.
Knuckles
N/A
Uses Rock Free Fall, pulling out a huge rock from the ground and immediately throwing it in front of him.
10%
Link
Throws a Boomerang that travels across the floor and then returns through the air.
5%
Lloyd
Creates a sliding shockwave along the floor with Demon Fang.
7%
Luigi
25
Uses Green Missile, launching himself a fixed distance forwards.
10%
Mario
18
Slides across the ground while kicking with his foot.
9%
Mega Man X
N/A
Shoots a Hadoken, a small, fast, and damaging shot.
6%
Meta Knight
18
Slides across the ground with Galaxia extended.
5%
Mewtwo
N/A
Uses Shadow Ball, rapidly charging a ball of energy and launching it in front of itself.
6%
Mr. Game & Watch
Pulls out a frying pan and flips out a single sausage from it.
5%
Mr. Incredible
Performs a small leap into the air to violently smash the ground with his powerful arms, producing a big damaging shockwave.
10%
Naruto
15
Headbutts forward, producing two shockwaves that extend from his sides.
5%
Pikachu
N/A
Produces a large lightning bolt with Thunder that has infinite range, spawning above it and travels from top to bottom.
9%
Samus
20
Enters her Morph Ball, turning into a ball and rolling forward a fixed distance.
8%
Shadow
N/A
Closes his eyes and snaps his fingers, which creates a small explosion with Chaos Magic.
5%
Sheik
Covers herself with Nayru's Love octahedron-like blue barrier and once this dissipates, she has already Transformed into Zelda.
6%
Sonic
30
Uses the Spin Dash, curling into a ball and propelling forward at high speed, travelling a fixed distance.
8%
Super Sonic
28
Uses the Spin Dash, curling into a ball and propelling forward at high speed, travelling a fixed distance.
Tails
N/A
Fires his "Magic Hook", which is a boxing glove on a chain that gets launched around his shoulders.
6%
Young Link
Throws a Boomerang that travels across the floor and then returns through the air.
3%
Zelda
Covers herself with Nayru's Love octahedron-like blue barrier and once this dissipates, she has already transformed into Sheik.
5%
Zero
Slashes overhead with his Z-Saber without leaping.
7%